We are currently translating the website, please come back later.
Laparoscopic radical hysterectomy for cervical cancer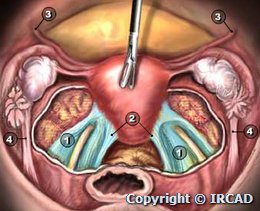 Abstract
The description of the laparoscopic radical hysterectomy for cervical cancer covers all aspects of the surgical procedure used for the management of cervical cancer. Operating room set up, position of patient and equipment, instruments used are thoroughly described. The technical key steps of the surgical procedure are presented in a step by step way: exploration, opening of spaces, lymphadenectomy, parametrium treatment, freeing of pelvic ureter, posterior step, vaginal step/closure. Consequently, this operating technique is well standardized for the management of this condition.
Tags