About Medtronic
Medtronic's mission is to contribute to human welfare with the application of biomedical engineering. Since the late 1940s, Medtronic has been working with others to alleviate pain, restore health, and extend life. Today, Medtronic is a medical technology leader offering therapies and solutions which enable greater efficiency, access, and value — for healthcare systems, providers, and the people served.

Last year, Medtronic technology improved the lives of more than 70 million people. That's 2 people every second.

Learn more about Medtronic
Company overview
In more than 160 countries
$101.8M charitable contributions in 2017
IRCAD-Medtronic partnership
IRCAD and Medtronic are enjoying a long history of collaboration in the field of surgical training. Medtronic (through its acquisition of Covidien, currently named "Minimally Invasive Therapies Group" within Medtronic) was one of the first partners to invest in IRCAD in 1994 due to the vision shared by Mr. Leon Hirsch, former CEO of US Surgical Corporation, and Professor Jacques Marescaux, President and founder of IRCAD. Those two pioneers anticipated the revolutionary switch to laparoscopic and image-guided surgery and the related need for educational programs.

Both Medtronic and IRCAD are proposing world-class Training & Educational Programs. Our collaboration in that field is based on 3 pillars:

- IRCAD's international trainings for surgeons are covering Minimally Invasive procedures in many specialties (e.g. Colorectal & Bariatric surgery, Gynecology, Urology) with the participation of experts coming from the world over. Medtronic is supporting IRCAD's goal to provide an effective implementation of innovative laparoscopic procedures and an enhanced level of safety for patients.

- Since 2014, the collaboration has entered a new phase: Training and Educational events organized by Medtronic Medical Affairs take place every week at the IRCAD Institute, with the participation of experts in minimally invasive surgery. Those training programs are dedicated to healthcare professionals from Europe, the Middle East, and Africa. Other divisions of Medtronic are also proposing trainings at IRCAD for cardiologists, spine surgeons, etc. The Impact program is now currently deployed by Medtronic, offering surgeons complete learning curricula integrating the Value-Based Healthcare concept http://europe.medtronic.com/xd-en/about/impact.html

- In 2014, Medtronic has established their internal training center dedicated to its employees from Europe, the Middle East, and Africa on the IRCAD campus. The possibility to attend IRCAD's surgical training programs ensures that Medtronic people understand the needs of healthcare professionals in Minimally Invasive Surgery and put the patient at the heart of everything they do.
Live replays
Click on the picture to watch the latest live webinars again.
View More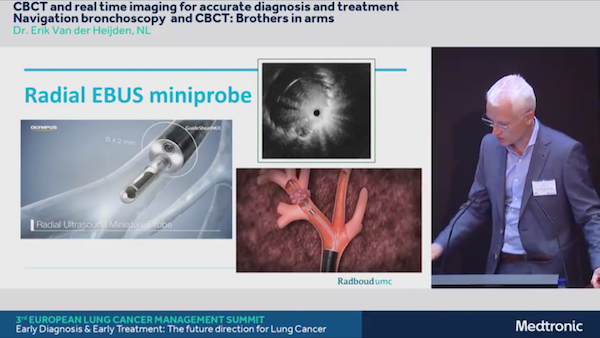 3rd European lung cancer management summit
The summit followed the care continuum from patient identification to the improvement of diagnosis, how the community can optimize treatment and finally enhance recovery to ensure the best outcomes for lung cancer patients.
October 8th & 9th, 2018
E-learning modules
Hysterectomy
The objective of this online e-Learning module is to outline advanced energies used during minimally invasive vaginal and laparoscopic hysterectomies.
Thyroidectomy
The purpose of this online e-Learning module is to outline advanced bipolar energy, the LigaSure™ Small Jaw Instrument in use during thyroidectomy for the management of thyroid diseases.
Radial reload thoracic application
The purpose of this online e-Learning module is to outline the Endo GIA™ Radial Reload with the Tri-Staple Technology Instrument in use during thoracic surgery.